Check out Grand Mesa, the world's largest flat top mountain and home to a variety of outdoor recreational opportunities! Grand Mesa's volcanic basalt top reaches in the sky at over 11,000 feet and spreads close to 600 square miles. Just for a relaxing day, traveling around the mesa is quite a photographer's dream. The breathtaking vistas, 300+ lakes and reservoirs, standing aspen groves, not to mention the wildlife - from chipmunks and stoats to deer, elk and moose your lens is always filled with magnificent shots! Grand Mesa offers 400+ miles of recreational trails and a dozen camping areas. So many adventurous ways to enjoy the mountain that we cannot list them all, but here are a few to get you started:
Summer & Autumn
Fishing * Hiking * Camping * Horseback Riding * mountain Biking * ATVing * Stargazing * Fall Colors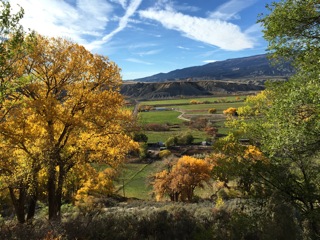 Spring & Winter
Snowmobiling * Cross Country Skiing * Downhill Skiing * Snowshoeing * Dog Sledding * Skijoring * Hunting * Ice Fishing
Resources TO PLAN YOUR TRIP
Check out our member Grand Mesa Adventures and see how they can help you get the most out of your Grand Mesa trip!
Other resources include: